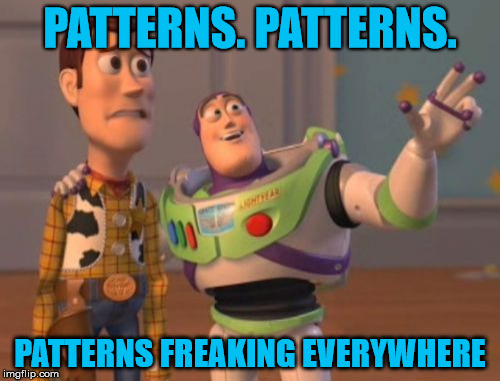 Over the years, I've noticed more and more how patterns seem to abound. Most of us know the common-knowledge "this applies to everyone" types of patterns, such as, people die in threes, etc. But then there are the individual patterns we all follow. Those are the ones that intrigue me most.
Like, I had a three year run where I wasn't hit on by a single man my age, but I was being hit on by men 15 years (or more) my junior every time the wind changed course. I finally said, okay Universe, I'll play along, and after a three or four month liaison with a guy 17 years younger than myself, the Universe moved onto the next pattern. HOWEVER! The next pattern was already becoming established with the seriously way-too-young-for-me-omgawds kid.
It was the pattern of J names that I am still slightly stuck in.
So I met a guy named Keith and thought YAY! I'm finally moving on in the alphabet. And I wasn't setting out to meet anyone because, let's face it, relationships of the romantical sort are definitely not my forte.
That's when I discovered my next pattern in the completely effed up journey of my not-even-wanted love life. It's the "Well, fuck, he's still invested in his ex even if he doesn't tell you he is" pattern.
First, let's cue Mr. Yesterday. He's the one that told me I was not someone he needed to check qualities off the list for…I WAS the list. He hadn't felt that way for anyone in years. "I claim you for as long as you want me. Every moment makes me want you more" blah blah blah it's all lies blah blah blah guy. Yup, the one who suddenly did a complete 180 overnight and *GASP* suddenly had feelings for his ex and was reconnecting to her again. It lasted three whole weeks when they DID get back together so obviously it wasn't the amazing fantasy he had playing in his head, but the bottom line is that he told me on the first date that there was no one else. So, yes, that means he LIED. And I was automatically in competition with someone I knew nothing about, and had he let me know he wasn't truly moved on, I would have known better than to catch feelings. His name starts with a J.
Then there's the Vaping Viking. Also a J name. Also in love with his ex still. He at least owns it, though, so I've known to not get too close and to not let my heart open up to him and to not invest myself and to not fantasize about some future that is completely unrealistic. But then, he's the guy acting like we are in a relationship and wants to spend as much time with me as possible and wants to hang with my kidlettes and introduced me to his parents when they were in town and is now buying our tickets to the Nutcracker so his mother can come back to Pennsylvania and see my daughter performing with us. Which, you know, if I'm not mistaken, these are all relationship goals. And I keep referring to him as my FRIEND, and yet, I'm seemingly in a relationship that isn't really a relationship. As soon as I figured out that he's viewing us as something different than we are, I quit sleeping with him. He took me to dinner last night, and he is incredibly upfront about reading my texts when they come in and commenting on them, and I swear that's something only a boyfriend who wants to know what his girl is up to would do. But…again…I am not trying to be in a relationship, and this is a pretty skewered version of a relationship if we WERE in one.
Next on my list…Keith. And Keith came on strong. Keith invited me and the kids to come home with him to Pittsburgh for Thanksgiving and be his date amongst his family. And he said the words which are now becoming a pattern, too, "I've finally found my sexy nerd girl. There's no way I'm letting you go." And flattery galore and good morning texts and good night texts and a million texts in between every day and good gawds, he acts like I'm the next best thing since cocoa beans and sugar chilled and watched Netflix and made a baby together. But…you know I can't break this pattern until I am immersed in it and recognize it and face it head on. So yeah….
And he said NOTHING back! The dude who couldn't stop texting me and flattering me and acting so excited over me who ALSO was the dude who kept bringing up his exes every single freaking time I turned around and saying things like, "Yeah, that's what Genelle did!" or "Kate was like that. She would do A, B, and C, blah blah blah" every single time we were on any topic whatsoever had absolutely nothing to say in regards to my outright confrontation of the fact I am already in competition with a couple ghosts.
So I unfriended him on Facebook and am now analyzing why this is my pattern and hoping this pattern is now broken. I have faced it head on after recognizing it and have taken the healthy approach which keeps me from being a doormat and/or excusing behavior that leaves me as an option. I mean, if someone treats you like an option and can't make up their mind, help them make their choice by removing yourself from the equation. It really IS that simple.
Aaaaaaaand now I'm giggling stupidly because the last two I mentioned weren't even intended to be found or put into the place where I even give a flying rat's ass. Yet, here I am. Because the Universe has absolutely no qualms with teaching you lessons that you really have no interest in learning.
And people wonder why I don't want anything to do with relationships at this point.