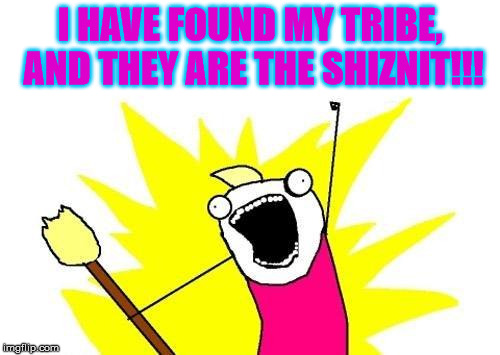 "Hey woman! Why the hell aren't you over here watching a movie with me?"
"I miss you. Don't make me bust up in your house like Al Qaeda on a mission."
"Dude, I just saw two squirrels fucking and IMMEDIATELY thought of you."
"Ok. Well just tell me what you want pampering wise. Food, booze, whatever you want. Do you want me to make dinner?"
"You're fucking magical."
These are text messages received over the past couple of days from my tribe members. Slowly but surely I am reconnecting with everyone. My goal in life for many months has been to spend as much time with people that make me happy doing things that feed my soul. So far, so good.
Last night I went to see Jinx in my pajamas. I just didn't feel like putting on pants. He fed me pizza, watched a couple spooky episodes of American Horror Story with me, and we discussed broad topics ranging from the roots of paganism to the crack-cocaine-like properties of Utz Smokin' Sweet chips that I inadvertently got him addicted to. Then we raided his loot crate and he gave me some things he's had put aside for me.
When he went to put my awesome new bobble in my car, he said, "Holy shit, you're so small. You're like a Shetland Human!" because getting into my driver's seat was a task.
Then he gave me a couple shirts of his that he thought I would dig because Invader Zim, that's why.
I, in return, brought a case of Angry Orchard, snacks, and my sparkling company.
We laughed, and we laughed, and then we laughed some more. And it feels so good being able to just chillax with those that get me and cherish their time with me and vice versa. There's been that settling after a shift where my thoughts reorganize themselves and I reevaluate what matters to me and go after it. Right now, life is amazing. Last week sucked, though…you know…fever and delusions and vomiting and other disgusting stuff. But now it's all gravy.
I've been filling up my dance card again. Even though I am in a transitional period once more, I feel as if so much weight has been removed from my shoulders. My company has closed, so I'm technically jobless right now, but I have several job offers to pick and choose from. I am continually working on homework and studying, but that ensures I am a straight A student. Nothing less will suffice. My kids are driving me insane with all their activities and trying to figure out how to accomplish everything as a single, solitary human void of self-cloning technology, but they're well rounded, social, dream-chasing humans on a mission. I am surrounded with people who show me that they care and make it feel safe for me to care for them just as much. Honestly, there's a lot to be said for having just one person give you the security you need to be vulnerable and open, but when you have multiple people filling that role, then you have indubitably struck gold, son.
Life is so amazingly good. I am a happy little Squirrel.